With the burgeoning demand of the praiseworthy yet affordable products manufactured by Walton Hi-Tech Industries Limited, the company has created one of the most persuasive brand images in Bangladesh. The man sitting at the foundational roots of this prosperous company is a 30-year-old mechanical engineer graduate, Golam Murshed. His talents paired up with his efforts helped the company reach its affluent position, a market with a capital of Tk 37000 crores.
PERSONAL LIFE OF GOLAM MURSHED
Golam Murshed was residing in his birthplace Chapainawabganj, with his family. He was the son of one of the members as a journalist for the Chapainawabganj Press Club, Md. Monirul Islam. His mother was a homemaker, and his wife is currently a director at Walton Hi-Tech Industries Limited.
Golam Murshed comes from a modest family background, and it is his very own persistence and hard work that led him to where he is. He has been a workaholic since he joined his job, but prior to that, his life was very plain.
He loved to involve himself in sports to cater to his fitness goals. He has also been a huge fan of wrestling since childhood, and his favourite wrestler was Dwayne Johnson, now known as "The Rock" in Hollywood.  Additionally, he was a bookworm as well, which paired up with his curious mind that developed his hunger for knowledge. Whenever he has some leisure time, he reads business centric books to learn newer and improved ways of conducting business and handling operations.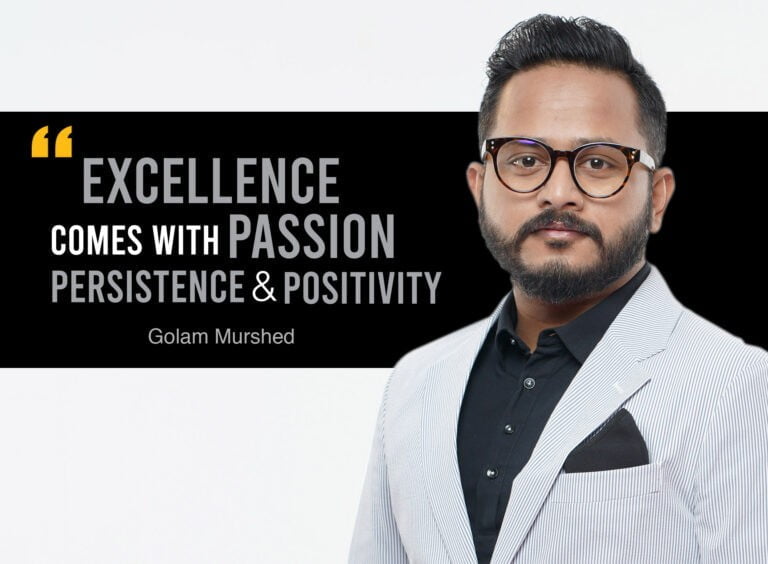 Talking about football, his favorite club is Barcelona. When it comes to cricket, he loves the bowling style and personality of Daniel Vettori. His personal favorite game to play is table tennis. He is a photographer by avocation. He completed a year-long course to learn photography and he has been involved with cameras since his university life.
EDUCATIONAL BACKGROUND
He was a science background student and completed his SSC exams from Harimohan Govt. High School in the year 2004 in Chapainawabganj Sadar. His college was the renowned Notre Dame College in Dhaka. After completing college, he joined the Islamic University of Technology and graduated from there as a mechanical engineer on 3rd December 2010.
CAREER
Mr. Murshed's walk of life is quite intriguing and inspiring. Soon as he graduated, he was very interested to be employed somewhere and using his skills. He was living with 6 of his close friend back then, and all of them went berserk in search of jobs and a stable future. Amidst all this, one of his friends bumped into an advertisement that said "Walton" is hiring. So, he sent his CV to the company in the evening, and he got a callback immediately the next morning.
The day he had his interview was very indelible for him. Four people were called for the interview, and he was the last one to be called among the four. The day was filled with both excitement and tension. Soon after, he was hired in the company on December 20th, 2010.
He joined the research and development team for air conditioners. His initial designation was for a desk job, as an assistant engineer, who had to create designs on the computer. The first-ever Walton Air C However, the department he was hired for was not boding well for him. He showcased a greater caliber than what he was hired for and exhibited leadership merits through his work.
This caught the eyes of the higher authorities at Walton, and after working for two years as a designer, he was transferred to the production department. This is how he took his first steps into becoming probably the youngest Managing Director (MD) and CEO of a gigantic company like Walton Hi-Tech Industries Limited, which dominates 60% of the electronics market in the country.
His performance in the production team was remarkable. The first-ever Walton Air Conditioner was produced under his supervision. There were several challenges throughout his work, but with his magnetic leadership persona, he managed to double the production within a year of taking charge of the refrigerator and air conditioner line.
Again, due to his charismatic superintendence, Golam Murshed was given the responsibility of operating the business, and he was made Chief Executive Officer (CEO) of the refrigerator department of Walton Hi-Tech Industries Limited.
Mr. Murshed's turning point for his career was the opportunity to work as an assistant to the Managing Director. This gave him the scope to show his caliber more, since he had to work in several departments at once, like production, finance, planning, and management.
ACHIEVEMENTS
Golam Murshed has had several notable achievements throughout his career, as he has been with the company for quite a long time now, and some of them are listed here:
A very noteworthy accomplishment would be the production quantity doubling without any further investments in equipment, and solely through his ways of handling operational procedures.
Acquisitions for numerous Refrigerators and Air Conditioner Manufacturing Plants were handled by himself from countries like Vietnam, China, and Taiwan.
Sales figures were the highest for the refrigerator department during his tenancy as the CEO of the refrigerator division.
During the Covid-19 pandemic, he initiated essentials like PPE, ventilators, disinfectant facility chambers, and Medi-Cart Robots.
He handled the entire Initial Public Offering (IPO) process for Walton Hi-Tech Industries Limited.
He involved the company in stock markets.
He launched the "Go Global" project and envisioned becoming one of the highest-ranked global brands by 2030.
The company attained the highest export quantity, sales figures, and net income in the fiscal year 2020-2021.
SECRETS BEHIND SUCCESS
Golam Murshed is an arch-nemesis of comfort zones. He does not think otherwise of people who like to stay in their comfort zones, but he does not go through with it. He thinks that comfort zones will not let people reach their full potential, and the world would not advance with a plethora of discoveries and newer technologies. According to him, people who like to stick to one criterion of work can work from their comfort zones. But, Golam Murshed prefers to push himself to do better.
The man believes in the saying "slow and steady, wins the race" and is not in a hurry to achieve more, so he prefers stability in his job. He is against changing jobs frequently, because people take a lot of time to accustom to the new environment of working, and the constant change of workplace hampers performance to a great extent. According to Mr.Murshed, dedicating time to one workplace will bring better results instead of switching from time to time. One cannot expect victory in a short time frame, they need to toil away for a favorable outcome. He thinks that secrets to success are-
Willpower – determination can make people do tasks they perceived as quite impossible
Dedication – zeal for success provides the energy to work harder
Endeavor – attempt to maximize the outcome of a task by putting in a lot of effort
Patience – taking things slowly, one at a time, and keeping calm in moments of crisis
Persistence – making sure the work is done no matter how many hurdles one comes across
Ability to work as a team – team support can create wonders, and it bodes well for both the leader and the others in the team.
He does not pursue or copy anybody, he loves to work in his ways and push his limits. He believes that everyone has a specific purpose. Everyone has a few responsibilities they are entitled to, and they need to work hard to achieve the appropriate outcomes for their efforts. He believes that his dedication drove him to work harder to accomplish achievements, and bask in the glory of success.
ABOUT HIS TEAM AND LEADERSHIP
Golam Murshed shows humility by dividing the entire credit among his team for the successes achieved. He had the impression of a complicated working environment when he was told that he is going to be the Managing Director. But he was proved wrong by the immense reinforcement his team offered him round the clock. They have boosted his morale to work as a better leader.
He believes that besides talent, people need background support to properly utilize their talents for a fruitful outcome. He respects and holds high opinions of his colleagues, and says that without their backup, he would not be where he is now. He could rely on his team extensively. They would follow his directions appropriately, and of course, respectfully.
He would conclude his efforts to be the time and energy he spent behind his work. He did not let office hours limit his productivity, he was always immersed in work. Mr. Murshed never saw an end to success, but he had a target in his mind, which was to be a multi-tasking leader, but not by crippling other people's careers.
He focused on his management capabilities and tried to provide the employees with job satisfaction as much as possible because, at the end of the day, he admits to the fact that a huge portion of the success belongs to team efforts and perseverance.
DESIRE AND VISION
Mr. Murshed had always desired to make lives easier for the youngsters and students. He wanted to establish the fact that bookish knowledge is not all someone can learn, and that hand-in-hand experience plays a greater role in prosperity. He wants to encourage the younger generation to involve themselves in a career-oriented lifestyle before completing their education, so that they learn the work-life balance earlier, and get a better grasp of upcoming situations.
He presumes that doing this will allow them to gain maturity beforehand, and they will not be treated as a fresher after they graduate, which is a head start. He has initiated a campaign in his university, which will allow the existing students to solve practical problems that huge industrial companies are facing. They will have to do this without taking external or international help.
He deduced that this can be a huge opportunity to publish millions of researches conducted by students of Bangladesh, and this will discourage Bangladeshi students to leave the country, and encourage them to use their talents to improve the industrial situation of the country. He also wants to create scopes for students to complete their Ph.D. here, instead of going to foreign countries.
GREEN BANGLADESH INITIATIVE
Murshed also dreams of a greener and more hygienic environment in Bangladesh, and to ensure that he initiated the "Better Bangladesh Tomorrow" project.
Working on the eco-friendly project to minimize traces of carbon footprints, Walton began to use the 3R system – (Reuse, Reduce, and Recycle) in the manufacturing procedures.  Reducing environmental pollution by assimilating 51.16 metric tons of waste produced each day, into the manufacturing process, Murshed has set an example of what future generations should follow. Murshed believes this will create awareness among the youth and drive them to volunteer more to maintain sustainability in the environment.
CONCLUSION
Throughout the article, we got a sneak-peek from the life of the leading business tycoon in Bangladesh, a wealth magnate, and an imaginative young businessman, Golam Murshed. He is currently appointed as the Managing Director (MD) and the Chief Executive Officer (CEO) of Walton Hi-Tech Industries Limited.  We got to know how the young man accomplished the feat of success through his dedication and perseverance, and how he tried to improve the quality of living and education for the country and its people.